Sponsors
Chi-Miigwitch to our 2019 Sponsors: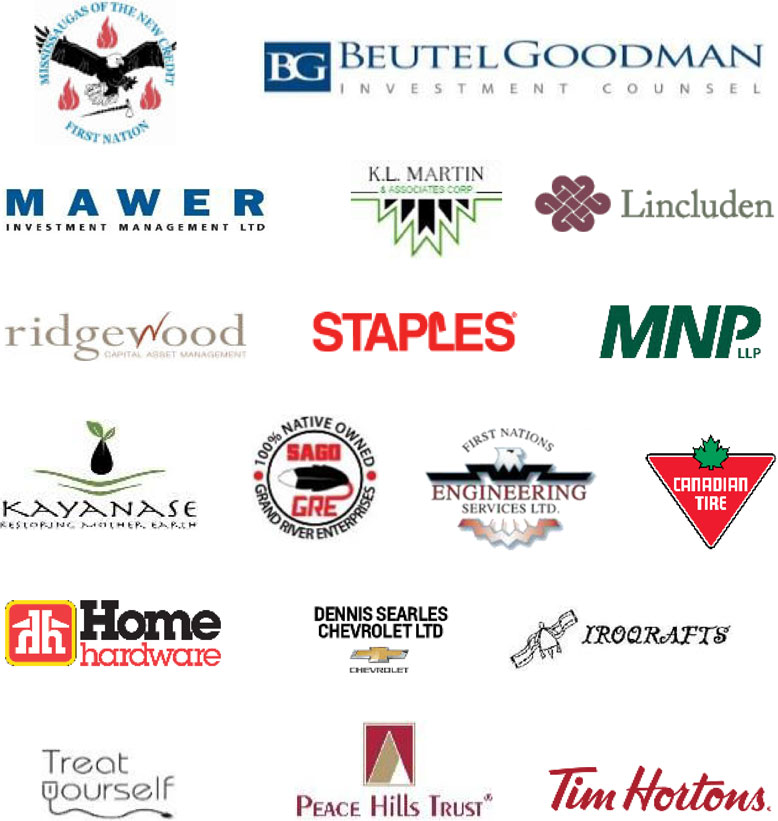 These generous sponsors are also listed on the sponsors board at the entrance of the Pow Wow.
If we have missed anyone we sincerely apologize.
If you would like to be listed on our website and sponsors board by making a donation of goods, services or monetary funds please contact the Cultural Coordinator from June – August, Monday – Friday (8:30 – 4:30) at 905-768-1921
If you are making a monetary donation please mail to:
New Credit Cultural Committee C/O Carolyn King 3312 Mississauga Road, Hagersville, Ontario N0A 1H0.
The volunteers who put in countless hours to make our annual event a success
The Many First Nation People, Communities that support our annual event, as well as the countless businesses and organizations/committees.
On behalf of the New Credit Cultural Committee, we would like to extend a Chi Miigwetch to Chief and Council for sponsoring the community's largest event year after year, without your generous support this event would not be possible.
This event takes a lot of community resources as well as man/woman power to get the grounds ready and presentable for the weekend. The committee is very thankful to all the "Volunteers", who assist in the pre setup and post clean-up work. Our volunteers are the back bone of this event because without them we would not be as successful as we have been for the past 30 years.